We are so excited to share this incredible range of Bristol based makers at Truce - a curation of design talent, all from the awesome city in which our store is located. It's a real celebration of truly shopping locally to support and nurture what's on your doorstep, something we've wanted to cultivate and showcase for some time now. You'll find 14 hand picked makers who specialise in different fields of design from ceramics to fine art, jewellery making to woven textiles, handmade furniture as well as lighting.
Here's a deeper dive into a selection of the featured brands you can discover in store (and some online). We really want to promote visiting us in store if you can to take in their incredible craftsmanship first hand in this heavily digital time. Starting things off with the people behind the colourful ceramics, jewellery, skincare & artwork…
Sophie Alda
Sophie Alda a Bristol based artist, designer and maker. Alda explores the relationship between the functional, the sculptural and the narratively suggestive in her work, approaching materiality and tactility in a playful way, rejecting the hierarchy of the practically useful/ art object within craft or otherwise.
Using techniques of making to explore and develop an understanding of artist's practice Since 2015 she's been lucky enough to develop and deliver workshops and education programming to organisations such as the Tate, the Camden Arts Centre, The Whitechapel Gallery, The Craft Council and Somerset House.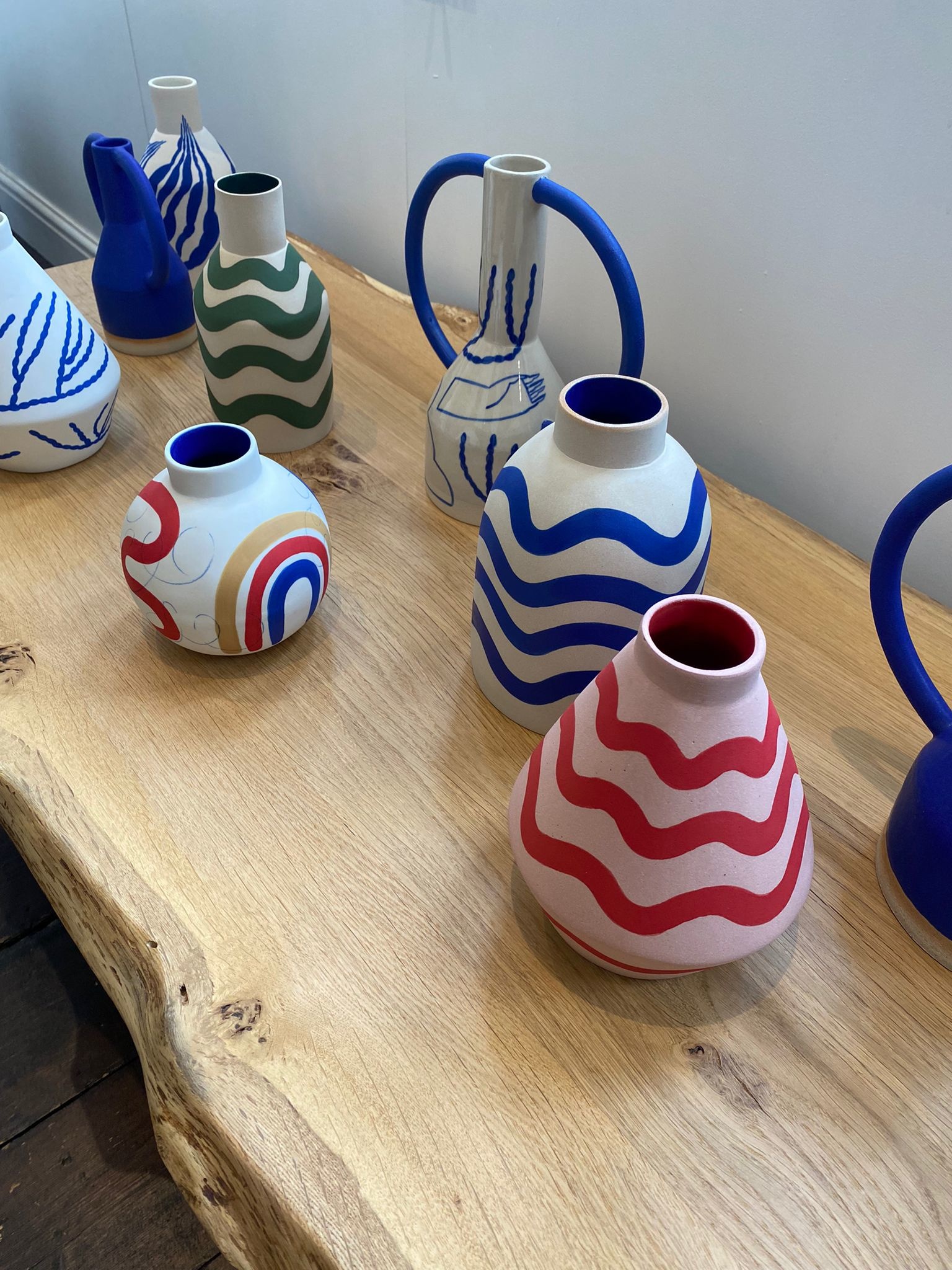 Holly Goldsmith
Holly is a Bristol artist and designer specialising in bespoke hand woven tapestries. Her work is a playful meditation on shape and colour. Flow, transition, energy and balance are themes investigated openly in the work. 
The design process consists of preparatory 2D collage and paint experiments. These determine composition and colour stories, later translating into woven studies. 
Each piece is meticulously crafted, often over weeks and irregularities are an important element, further echoing the unique character of the tapestry. Recycled yarns and natural fibres such as organic cotton, linen, silk and varieties of British wool are used for weaving.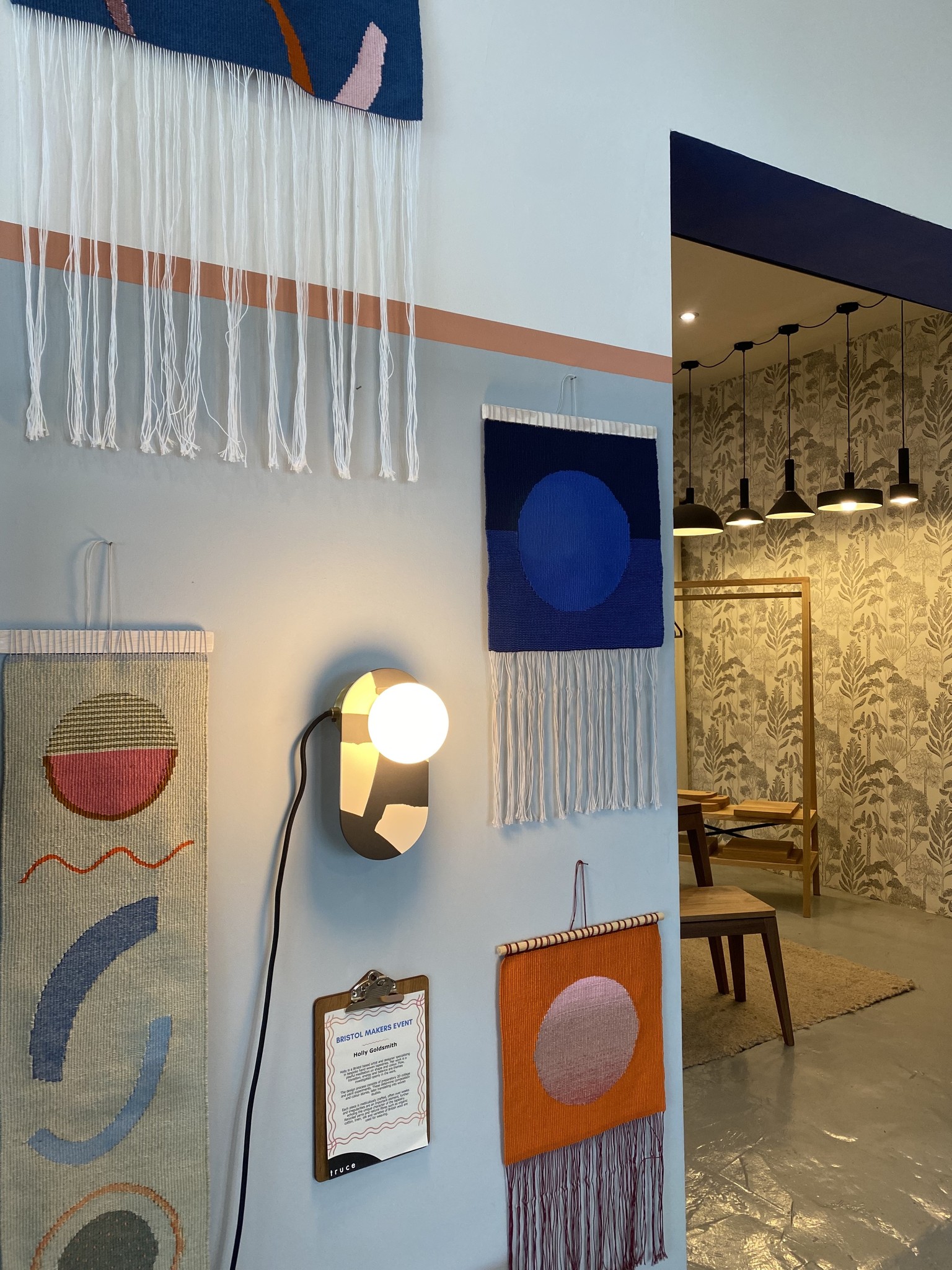 Plop Pottery
PLOP pottery was born out of an irrevocable love of clay, and the need to keep exploring its never ending possibilities. 
Scarlett's biggest influences are colours, patterns and shapes from everyday scenes and nature that she takes and experiments with. The inspiration for PLOP pieces are found through creative play and a continued exploration of the material. 
Based in her shared pottery studio in Bristol, Scarlett designs and hand builds all her pieces to create one-off, imperfect ceramics for your home.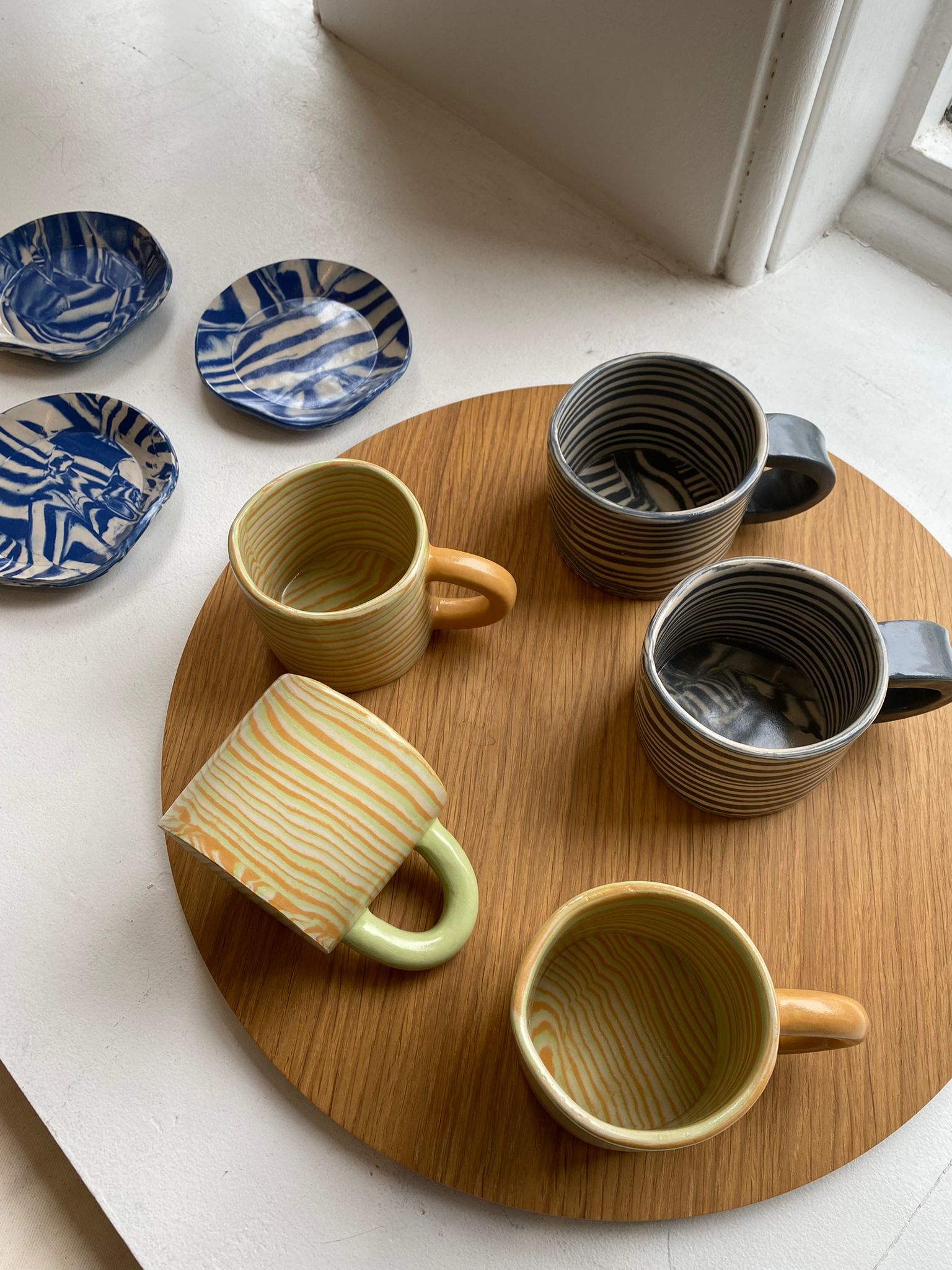 Eleanor Dunning
After studying Fine Art at Bath Spa University, Eleanor Dunning now creates from her Bristol home studio specialising as a painter using acrylic and ink. 
Eleanor's themes intend to ground you in the familiarity of the everyday and encourage the viewer to reside in moments that capture human behaviour in the comfort of the home. 
As someone who lives with chronic illness, she finds solace in the objects that occupy her home and keep her company whilst recovering. Her everyday rituals of drinking peppermint tea, hibernating under blankets, doing light housework or reading a magazine eventually established their way onto canvas and became the narrative of her work.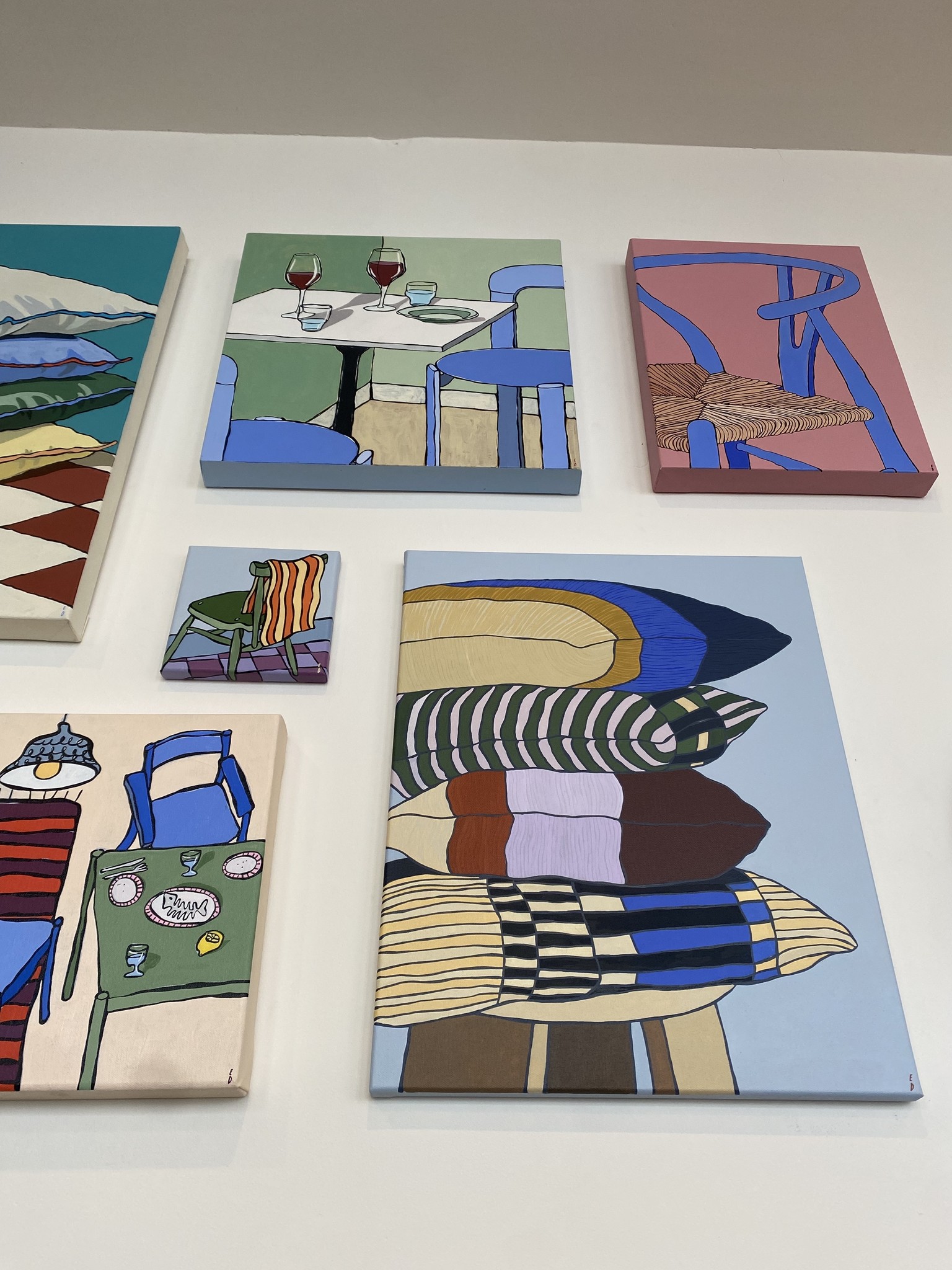 Jules & Clem
A contemporary jewellery studio in Bristol, Jules & Clem create beautiful pieces to give you bold style and brilliant confidence.
Designer Juliet started making jewellery whilst living in Melbourne where she studied contemporary materials and first discovered the wonders of laser cutting.
Inspiration is varied - recent collections have been inspired by modern art, interior design and the natural world. No matter the inspiration, her aim is to create wearable but unique jewellery, often in bold colours with simple lines.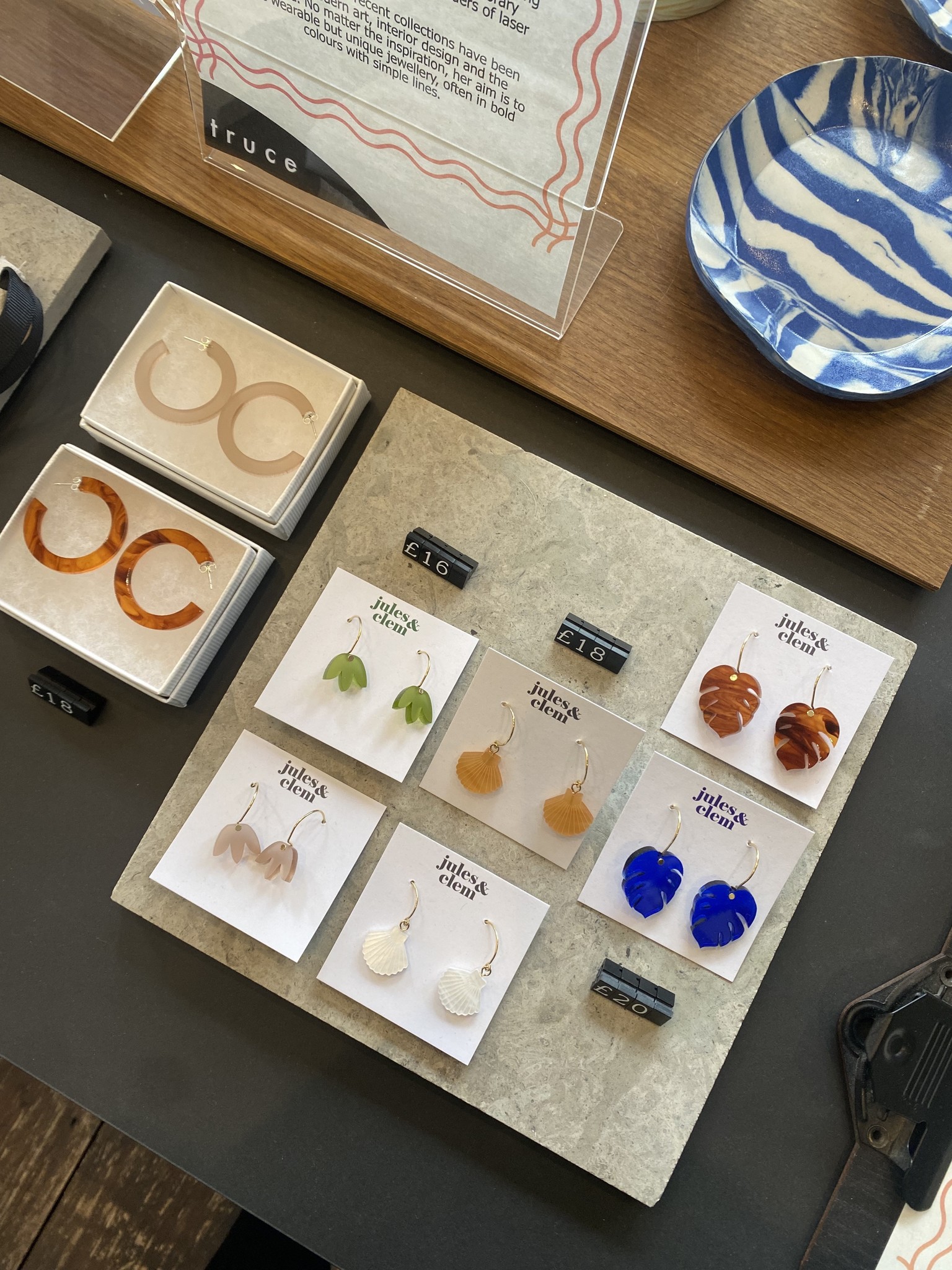 Formé
Hollie Kingston has worked within Interior Design and home styling for over a decade and has wanted to create art pieces for the home for some time. 
Formé, like a lot of small business, was created in lockdown, from a need to be creative and find a sense of equilibrium within the chaos. 
The process of making each piece feels very meditative, finding the balancing point between each shape. Each piece is made, painted and assembled by hand in Hollies Bristol studio and packaged with sustainability in mind. 
Shop online here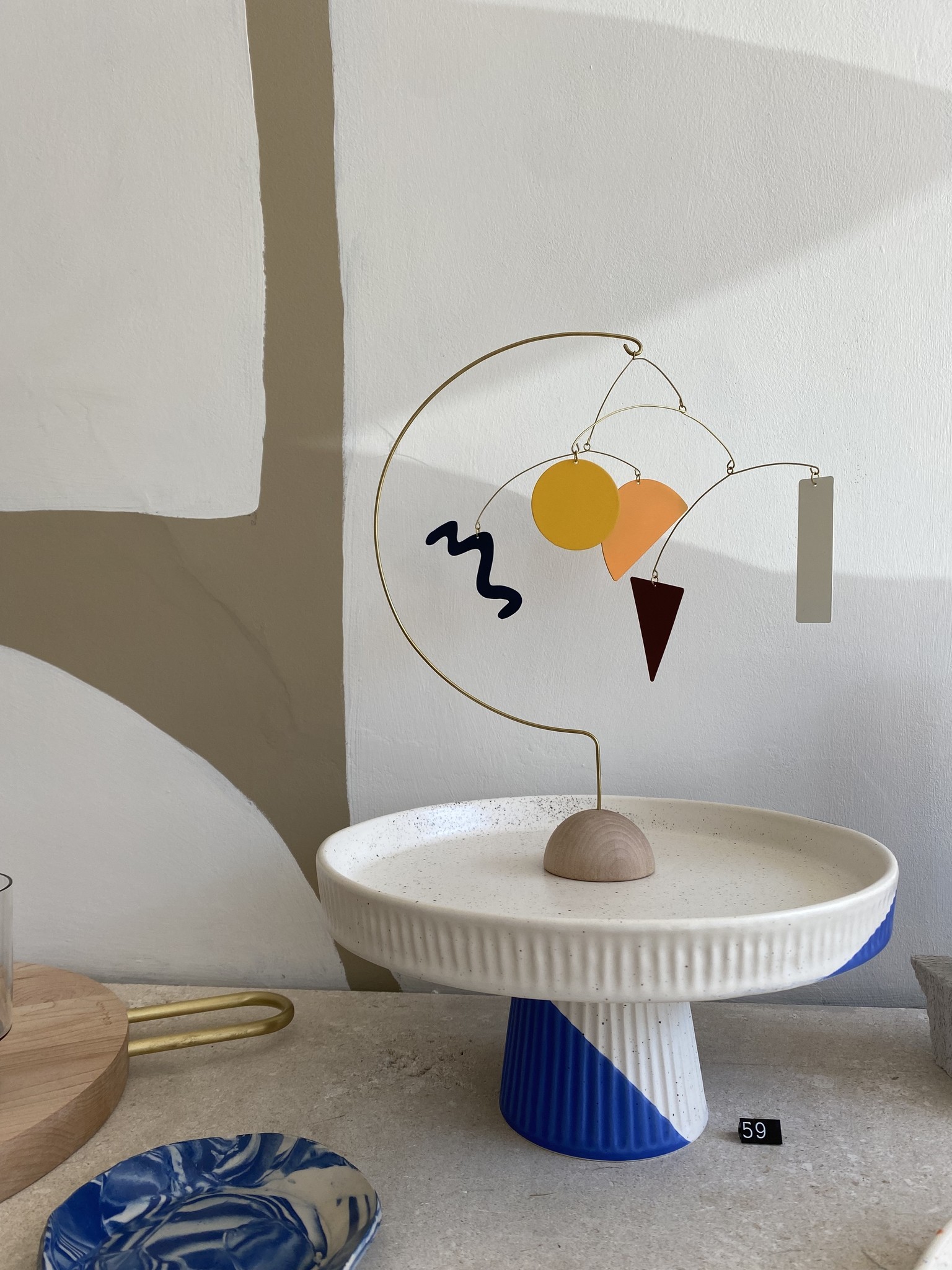 What the Mood
With a career in Interior Architecture, and an obsession with design, colour and sustainability, What The Mood began. Meghan Peploe had the idea to create beautifully bold pieces of the highest quality. The lights are minimal and contemporary, and inspired by architecture, with colour, shape and form being at the forefront of each design. 
Sustainability is key, with each piece handcrafted using an eco friendly, water based and non-toxic resin (Jesmonite) so built to last. Any waste material is recycled and reused in the coasters. The brass pieces are sourced locally in the UK and are of the highest quality.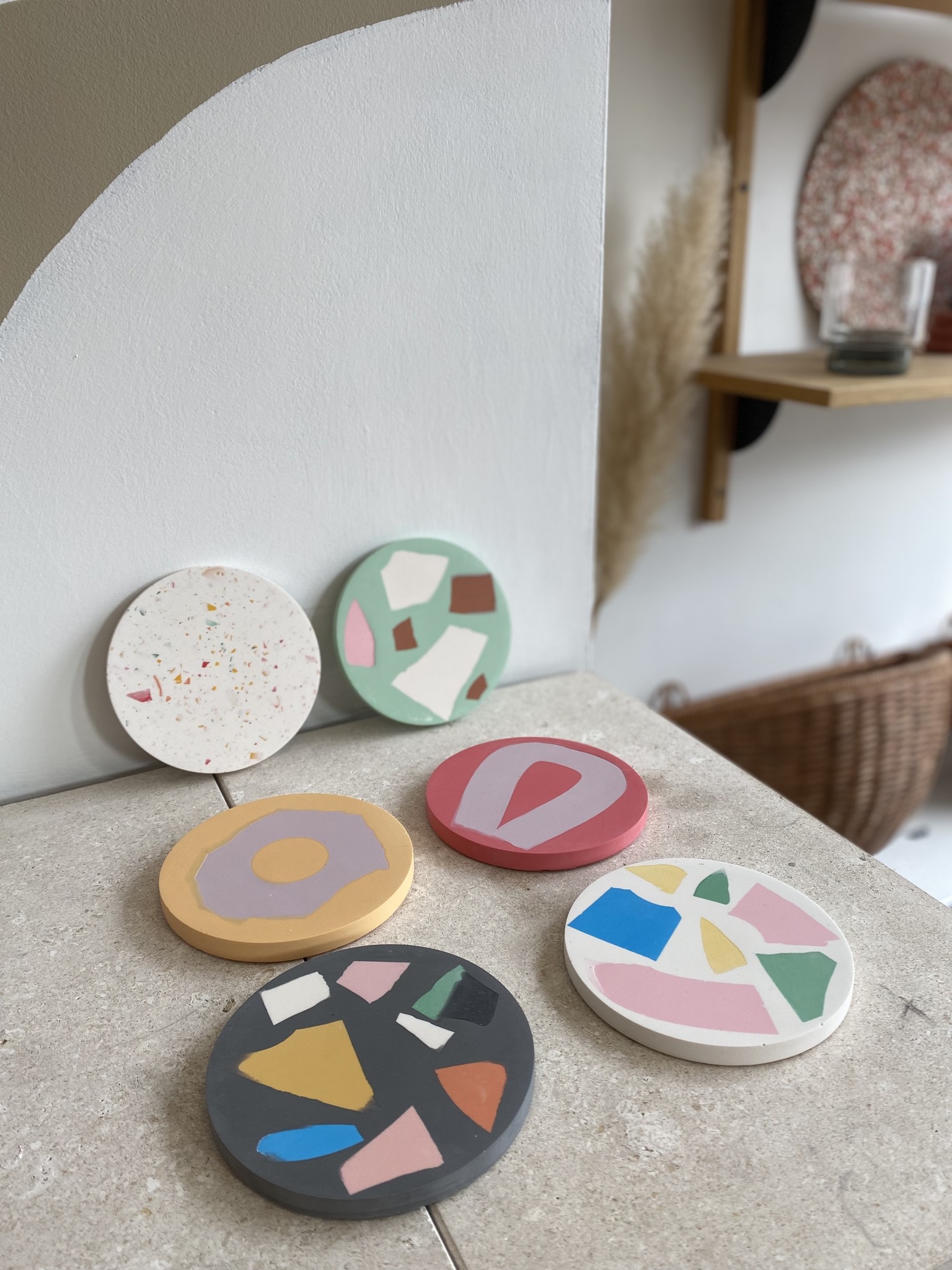 Wylder Naturals
Wylder Naturals was created with the desire to make simple, quality products that benefit the body and mind through the power of natural ingredients. 
They use a traditional cold process method to hand make our soaps in small batches. All the soaps are made, cured and packaged in their studio in Bristol.
All of their recipes are inspired by and rooted in the natural world. Wylder use sustainably sourced, plant-based ingredients and never any man-made or chemical alternatives.
Vegan and cruelty free, and the soap packaging is all recyclable and made of recycled material wherever possible. They have invested in sustainable practices right from the beginning, selecting partners and suppliers whose principles align with their own.
Shop online here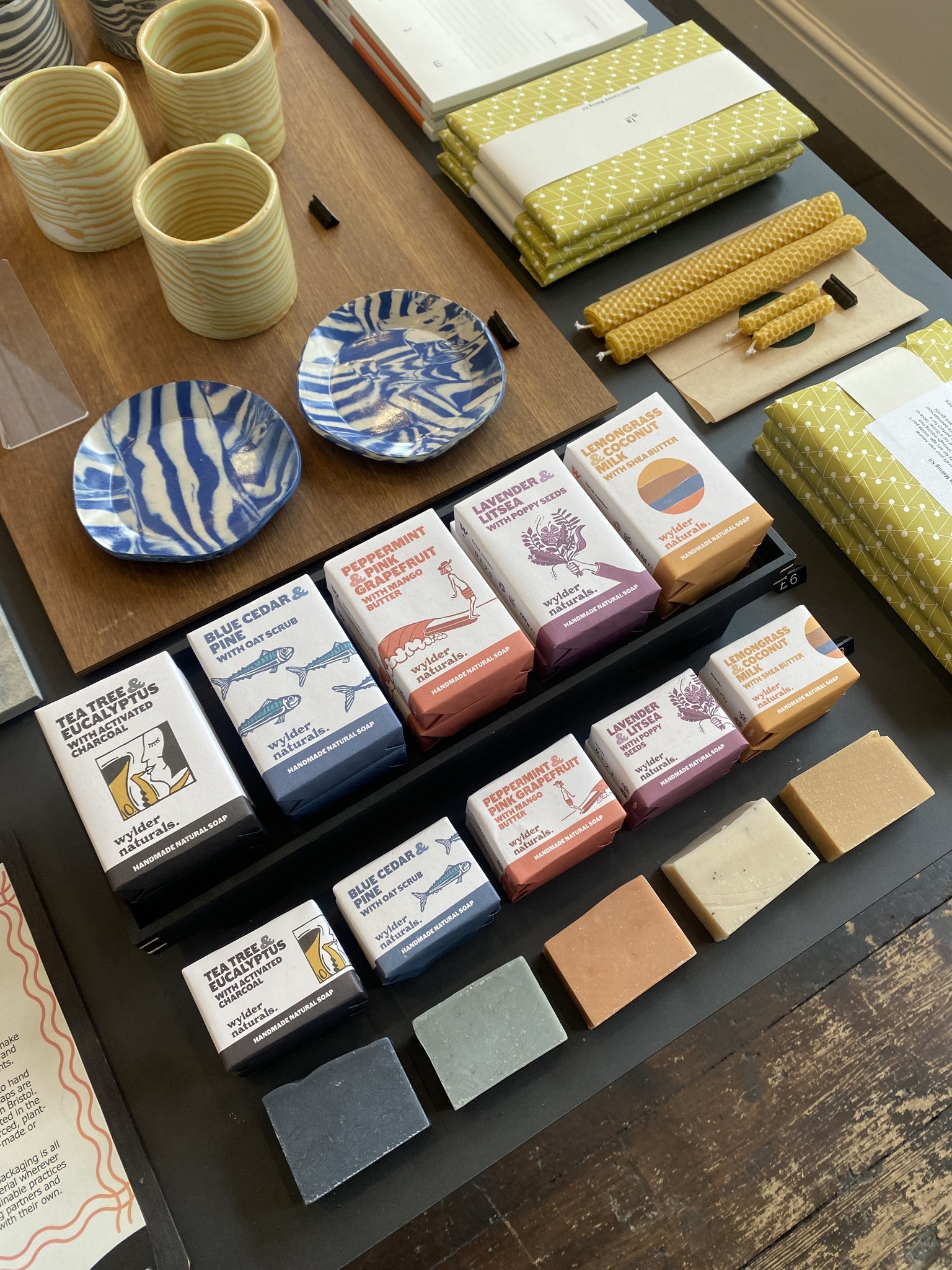 Head over to our Instagram for more on our makers or pop into store to see the curation yourself - we look forward to welcoming you.